Nastya Gorbacheva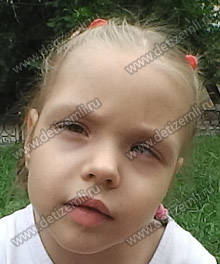 Age, from: 5, Moscow region
Diagnosis: cerebral palsy
In 2017 Nastya will undergo rehabilitation courses in July, September, November at the centre of regenerative medicine Academy of Health in Elektrostal, Moscow region. The cost of each rehabilitation is 98,600 rubles. The family can't pay for rehabilitation so we are asking you to help a sick child!
Incoming donations
19.04.2017 — Melkonova Tatiana , 400$
15.04.2017 — Melkonova Tatiana , 170 евро
12.04.2017 — ИП Иванов П.М., 1000р
11.04.2017 — webmoney онлайн казино Goldfishka.me, 150$

Documents
News
07.04.2017
Charitable Foundation for children Children of Earth opens the collection of charitable donations for the treatment of a sick child from the Moscow region. Please support Nastya Gorbacheva!