Islam Ishmuratov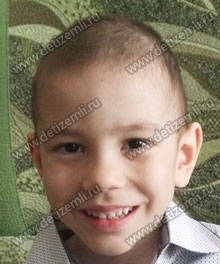 Age, from: 5, Bashkortostan
Diagnosis: cerebral palsy
From the mother's letter: My son is 4 years old. Diagnosis: cerebral palsy, spastic diplegia, psychomotor retardation, dysarthria. At the moment he knows how to sit, crawl on all fours, walking on the walker, stand with support. He can't stand or walk on his own. Islam is a very capable boy, he talks, tells tales. Speaks two languages a little bit: Bashkir and Russian. Sings songs, loves pets, especially horses.
Sick child urgently needs to undergo treatment in the clinic «Sakura» worth 169,000 rubles. Please help the child!
Documents
News
21.12.2016
Charitable Foundation «Children of Earth» opens the collection of donations for Islam Ishmuratov. 169,000 rubles is needed. The child has cerebral palsy. Help us provide assistance to the sick child!