Stepan Persiyanov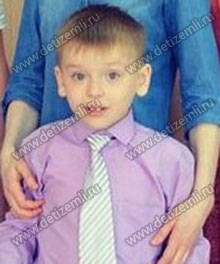 Age, from: 7 years old, Lipetsk
From a letter from the mother: He had ceased to utter short words which he had already learned. He no longer understood speech, did not respond to requests, forgot his toilet training, was aloof, unfriendly, aggressive, whiny, had disturbed sleep. All this happened at the age of 2 years, up to which point the boy had been developing quite normally. Stepan needs treatment rubles in PrognozMed clinic, Saint-Petersburg. The cost is 75,000 rubles. Help a sick child!
Help rendered
Collected 75,000 rubles for treatment.
Incoming donations
19.11.2016 — Сочнев В.В. , 200р
15.11.2016 — Лахтин Виталий , 100р
12.11.2016 — ООО "Металит Рус", 5000р
12.11.2016 — ООО "СК Ника", 58746р
11.11.2016 — webmoney онлайн казино Goldfishka.me, 150$
07.11.2016 — Климов Денис, 58р
02.11.2016 — ООО "Кирпич Маркет" , 1000р
31.10.2016 — ООО "ТД Металлопрокат" , 15000р
31.10.2016 — Болдырева А.И., 196р

Documents
News
15.11.2016
The Children of Earth Foundation has successfully collected donations to pay for the treatment of Stepan Persianov. The treatment has been paid. Sincere thanks to all our supporters for the participation in the fate of a sick child!
22.10.2016
Stepan Persyanov from Lipetsk needs help paying for treatment. The boy has autism and he needs regular treatment and examination. Please help a sick child!