Arseniy Aksenov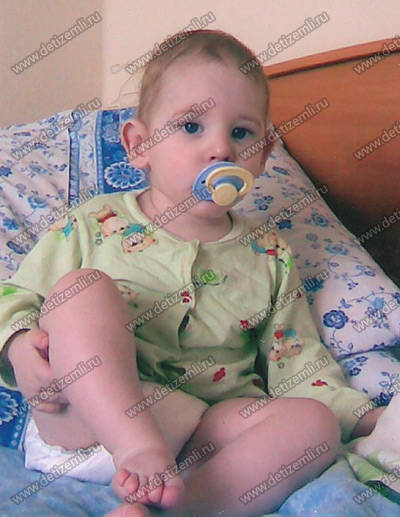 Age, from: 2 years, Lipetsk
Diagnosis: diabetes, epilepsy
Two-year Arseniy is part of a large family. The boy has been born with diabetes and epilepsy. Arseniy can't sleep at night because of constant headaches. In January epileptic seizures have increased and have become everyday. The boy can't lead a normal life. He needs insulin shots every day due to excessive blood sugar levels. Now, Arseniy urgently needs examination and further treatment in Germany. Treatment costs 10,500 euros. Without it the child simply will not survive. Help the boy!
Help rendered
Paid 314,000 rubles for treatment
Incoming donations
20.05.2011 — Савина М.В., 1000р
19.05.2011 — Бессонова Р.С., 2000р
15.05.2011 — MS. OLGA GURINA ( Assist ), 1000р
13.05.2011 — Ярцева Н.Г., 100р
11.05.2011 — Бондарева Е.В., 2000р
11.05.2011 — Сыпченко С.А., 1000р
10.05.2011 — Латчана Индира, 5000р
10.05.2011 — Гусева Е.В., 1500р
10.05.2011 — Селеменева Г.М., 100р
06.05.2011 — Горяев Д.А., 1000р
04.05.2011 — Эчкенко О.В., 10000р
03.05.2011 — Саблина Ю.В., 400р
28.04.2011 — webmoney, 10$
27.04.2011 — Анонимно, 150р
27.04.2011 — Ефимова З.В., 200р
22.04.2011 — Гончарова Л.А., 11000р
22.04.2011 — Мацнева Т.В., 1000р

Documents
News
29.05.2011
Condition of the child has deteriorated sharply. It was necessary to accelerate the trip to Germany for treatment. Today, the boy's mother has received 314,000 rubles, and the rest of it will be added from the family funds. Parents of Olga Alexandrova requested to transfer money collected for her daughter to Arseny. We wish Arseny every success in treatment and look forward to good news. Expect further news on the future of the boy.
20.04.2011
Charitable Foundation for Children, "Children of the Earth" opens the collection of funds for the trip of Arseniy to Germany for medical treatment. Diagnosis: diabetes, epilepsy. Material condition of the family absolutely does not allow the family themselves to pay for the treatment. Therefore, we appeal to all good people, our associates and friends to help the little Arseny in combating the disease.