Yaroslav Asanov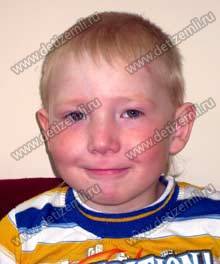 Age, from: 5 years old, Izhevsk
Diagnosis: organic CNS damage
Yaroslav was born at term, weighing 3280 grams, height 52 cm. The development of the baby was normal. The only thing that worried his parents was lack of speech. Since thr age of two the boy has been on medication (pills, injections). Yaroslav was diagnosed with organic damage of the central nervous system. Only after a course of treatment in the clinic «REATSENTR IZHEVSK» Yaroslav showed an improvement in speech. He had just syllabic speech, and now he can utter words and even three word sentences. Yaroslav need to undergo treatment which costs 54,250 rubles.
Incoming donations
03.12.2015 — Сергей Матвеев , 50р
04.11.2015 — Смирнов В.Е. , 42000р
06.10.2015 — webmoney, 88.88$
28.09.2015 — webmoney, 88.88$
15.09.2015 — Меркулов А.А Яндекс Деньги, 1500р
14.09.2015 — Яндекс Деньги, 500р
09.09.2015 — A.KOROBEYNIKOV, 500р

Documents
News
06.11.2015
Charitable Foundation for children Children of Earth has funded treatment of Yaroslav Asanov. We thank our regular contributor v. E. Smirnov for his help to sick children.
17.08.2015
Yaroslav is now 4 years 7 months old. He is an inquisitive, cheerful boy who loves to be creative. He needs a little help in the development of speech, microcurrent therapy, reflexotherapy combined with speech therapy and massage. Help a sick child!