Glafira Belkina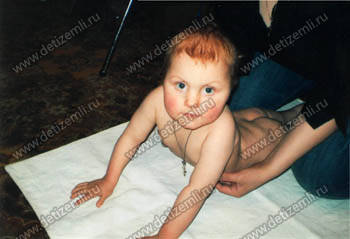 Age, from: 4 years, Perm, Solikamsk
Diagnosis: congenital undifferentiated myopathy
t My daughter born with health problems. At birth were broken collarbone and first rib on the right, seriously injured cervical spine. My baby immediately placed in intensive care. After the hospital we were transferred to Children's Hospital. In eight months my daughter was diagnosed with cerebral palsy. We pereprobyvali various treatments. Even had a "traditional healers". Daughter to date until the creeps, does not go without saying. I've learned from communicating with mothers of children - disabled on the method of prof. Skvortsova. They have already been tried and have children there are positive results. Treatment at the clinic costs 52,500 rubles. I bring up her daughter alone, helped only by the parents - retirees. You understand that such forces do not rack up a lot of money. So I had to ask for help from a kind and sympathetic people.
Help rendered
Paid for treatment in Moscow, cost 42,000 rubles
Documents
News
17.12.2010
t Today we paid for treatment of Glafira Belkina in the Institute of Medical Technology, Moscow, cost 42,000 rubles. We wish Glafira success in her battle with disease.