Maxim Belugin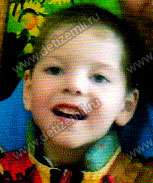 Age, from: 4 years old, Tambov region
Diagnosis: cerebral palsy
From mom's letter. The child was injured during childbirth. Now he doesn't sit, doesn't walk, doesn't speak, there are problems with his hands — they don't obey him, i.e. motor functions are broken. We treat him from the age of three months in hospital in Tambov, in Moscow, Samara, Penza. He is also regularly treated on an outpatient basis. The last course of rehabilitation we had in Penza. The improvement in the condition of the son is noticeable.
Maxim now needs treatment which costs 89,000 rubles. Help a sick child!
Incoming donations
12.11.2018 — Королева Ирина, 150р
06.11.2018 — Егоров Алексей, 500р
06.11.2018 — Якимов Игорь, 500р
06.11.2018 — Романович Денис, 100р
06.11.2018 — Баликоева Алана, 500р
06.11.2018 — Л Вячеслав, 100р

News
04.11.2018
Charitable Foundation for children «Children of the Earth» starts collecting donations to pay for the treatment of a sick child. Maxim needs 89,000 rubles for treatment.