Masha Bezgina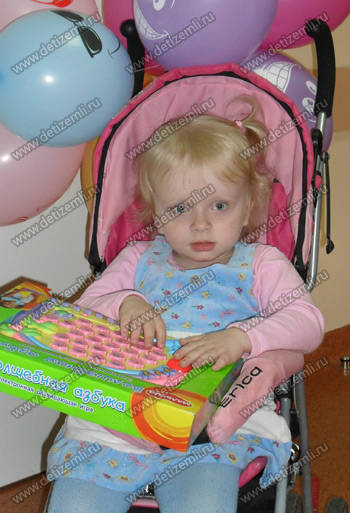 Age, from: 4 years, Saratov Region
At the age of five months Masha's head began to grow rapidly, and parents turned to the neurosurgeons for advice. The girl had several punctures made in order to compensate for hydrocephalus, but it did not help. Masha has undergone treatment in the Regional Children Clinical Hospital, Moscow, and Reatsentr LLC, Samara. Treatment is helping the girl and gives hope for recovery. Masha now needs anoter treatment in Samara cost 53,650 rubles. Help the child!
Help rendered
Paid 53,650 rubles for treatment in Reatsentr LLC, Samara
Incoming donations
25.04.2011 — Смирнов В.Е., 53000р
12.04.2011 — ELENA STASYUK ( Assist ), 200р

Documents
News
05.05.2011
We have fully paid for treatment Masha Bezgina in LLC Reatsentr, Samara cost 53,650 rubles. We are grateful to V. E. Smirnov who helped pay for the bulk of the required amount for treatment. We wish Masha every success in the treatment and victories over the disease.
12.04.2011
The Children of Earth Foundation begins collecting donations for the rehabilitation of Masha Bezgina from the Saratov region in Reatsentr LLC, Samara cost, 53,650 rubles. The diagnosis is epilepsy. Thanks to the efforts of her family the girl is constantly undergoing treatments. The child has the positive dynamics, so we ask you not to remain indifferent and help Masha.