Ilya Brylev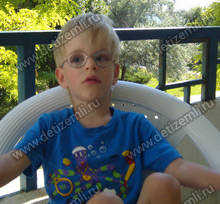 Age, from: 5 years, Samara
Diagnosis: pathology of the central nervous system
Ilya suffers from delayed speech and mental development, reduced mental processes and cognitive activities. All of this is compounded by virtually nonexistent vision. From February 2010 to September 2011 the boy underwent six surgeries; in September 2011 he had a surgery to remove hemorrhage in his left eye, plus surgery in March 2011 to remove a hernia. All of these operations and anesthesia, of course, have left their mark by affecting cognitive development of the child. Now Ilya needs treatment in LLC «Reatsentr» priced at only 30,500 rubles. Help the child!
Help rendered
Pid 30,500 рrubles for treatment of Ilya
Incoming donations
10.09.2012 — Интернет лотереи 2LOTO.com, 320$
10.09.2012 — Разепова Лилия ( Assist ), 500р
10.09.2012 — Интернет-казино Goldfishka.com, 500$

Documents
News
09.09.2012
Ilya is ill from birth. He has had a lot of complex surgeries. This little boy can't see. He needs urgent hospitalization in Reatsentr LLC. Treatment cost 30,500 rubles. Charitable Foundation for Children «Children of Earth» begins collecting donations for treatment Ilya. Help the child!