Daniil Bulakh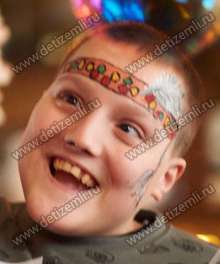 Age, from: 16 years old, Moscow region
Diagnosis: organic lesion of the brain
From a mom's letter: From early childhood we were treated in the psychoneurological hospital № 18 in Moscow, then in the rehabilitation center «Childhood». Until six years of age Daniil did not walk, could only sit in a wheelchair, could not see, he could not chew independently. Until ten years he was in a diaper. Thanks to constant treatment he gradually began to eat by himself. We are making every effort to treat.
Daniil currently requires a course of treatment in the center of speech pathology worth 80,000 rubles. Help a sick child!
Incoming donations
12.11.2018 — гришечко андрей, 100р
12.11.2018 — Королёва Ирина, 150р
08.11.2018 — Л Вячеслав, 100р
06.11.2018 — Федонин Никита, 500р

News
04.11.2018
The Children of Earth Foundation is asking to help Daniil. The child has an organic brain damage. Treatment requires 80,000 rubles. Help Daniil defeat his illness!