Camilla Demkina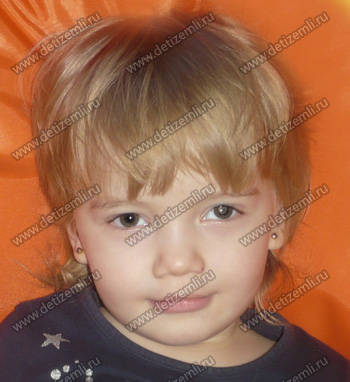 Age, from: 4 years, Kazan
Diagnosis: retinoblastoma
In summer 2009, Camilla was diagnosed with cancer in her left eye. The girl went through a lot of courses of chemotherapy but the tumor has not decreased. Parents were forced to do surgery on Camilla's eye in Essen Clinic, Germany. The doctors managed to save the eye and partly its vision. Retinoblastoma is an unpredictable disease and in many cases it relapses. It is vital that the girl is screened in Germany every three months until tha age of six. The cost of one visit to the clinic is 1500 euros. Help Camilla retain her health!
Help rendered
Paid 1,500 Euro for medical examination in Germany
Incoming donations
29.03.2013 — Интернет-казино Goldfishka.com, 300$
01.11.2011 — webmoney ( сайт frenglish.ru ), 11763р
19.10.2011 — webmoney ( Интернет лотерея 2LOTO.com ), 200$
03.10.2011 — webmoney, 100р

Documents
News
02.11.2011
The Children of Earth Charitable Foundation thanks all the donors who helped Camilla. Camilla has cancer eye. She had a successful operation, but now she must be constantly monitored and chrcked up by German experts. Each examination costs 1,500 euros. Thank you again everyone. We'd like to wish Camilla success.
25.09.2011
In 2009 Camilla was diagnosed with cancer. She underwent several courses of chemotherapy and a surgery in a German clinic for eye cancer. Now she must be constantly observed in the German clinic. Each screening costs 1500 euros. Help save the little girl's health.