Vladislav Dmitriev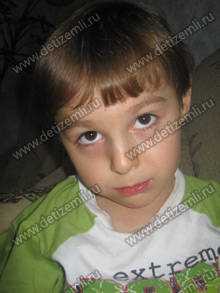 Age, from: 6 years old, Kursk region
Diagnosis: cerebral palsy
These days many people say that children with cerebral palsy are a sin of modern medicine. In many cases infants are injured at birth, which leads to the terrible disease. This is what happened to Vladislav. Due to the negligence of doctors the child is now disabled. Vladislav needs to undergo a course of treatment that will help the boy recover. The cost of treatment in the clinic «Galileo» is 78,100 rubles. Please help the boy live a life he deserves!
Help rendered
Financed tratement, cost 81,00 рrubles.
Incoming donations
20.04.2014 — Маркова Е.В., 1000р
18.04.2014 — Фат Снежана , 5000р
12.04.2014 — Маркова Е.В., 1000р
10.04.2014 — Жуков Андриян , 1000р
09.04.2014 — Маркова Е.В., 2800р
21.03.2014 — Барбаш М.В., 1000р
11.03.2014 — Интернет-казино Goldfishka.com, 329.59$
06.02.2014 — П. Ольга , 2500р
26.12.2013 — Макаров Евгений , 500р
20.12.2013 — Барбаш М.В., 1000р
19.10.2013 — Кузнецова Н.А., 1000р
19.10.2013 — Аниканова М.М., 1000р
12.10.2013 — Интернет лотереи 2LOTO.com, 250$

Documents
News
20.04.2014
Moscow Charitable Foundation for seriously ill children «Children of Earth» closes the collection of charitable donations to pay for treatment of Vladislav. We managed to raise the necessary funds for the child's treatment. Thanks to everyone who participated in the fate of the child and helped Vladislav get a chance to defeat the disease.
25.09.2013
Foundation for sick children, «Children of Earth» begins collecting charitable donations for the treatment of a sick child, Vladislav Dmitriev from the Kursk region. The child has cerebral palsy as a result of birth trauma. Help the boy live a normal life!