Ilya Dokuchaev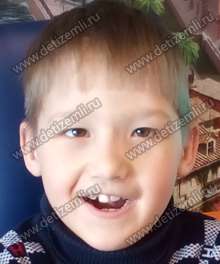 Age, from: 10, Sverdlovsk region
Diagnosis: deformation of feet
Ilya underwent 3 complex surgeries. Craniotomy of the frontal area, endonasal removal of naso-frontal hernias, adductomy of thighs. These terrible diseases are even difficult to pronounce, can imagine that the child survived? Ilya regularly undergoes treatment in various clinics, massages and classes with a speech therapist. But now is not the time to stop. The child needs treatment at the clinic cost 80,0000 rubles. Help the sick child!
Incoming donations
13.07.2018 — Якимов Игорь , 200р
09.07.2018 — Федонин Никита , 500р
29.05.2018 — Солнцев Денис, 100р
16.05.2018 — webmoney онлайн казино Goldfishka.me, 150$
04.05.2018 — Саврасова Екатерина , 1500р
30.04.2018 — Чаплыгин Алексей , 1000р
25.04.2018 — Чаплыгин Алексей , 110р
25.04.2018 — Чаплыгин Алексей , 122р
25.04.2018 — Л Станислав , 150р
25.04.2018 — Кузнецов Дмитрий , 300р

News
25.04.2018
Charitable Foundation for children «Children of Earth» opens the collection of donations to pay for the treatment of a sick child. Illya needs 80,000 rubles for his treatment in the speech pathology center. Help the child overcome his illness!