Tanya Dolgova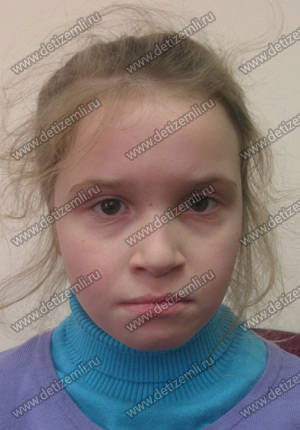 Diagnosis: central nervous system damage
Tanya is now 9 years old. Parents first began to suspect there's something wrong a few months after she was born. Tanya was constantly screaming, crying and had poor sleep. Then her mother noticed lag in her daughter's development and immediately began treatment. Tanya is a very sweet and affectionate girl who really wants to get well and to communicate on an equal footing with her peers. Now she must undergo treatment in the LLC "Reatsentr" worth 53,000 rubles. Help the child!
Help rendered
Paid 53,000 rubles for treatment in ReatsentLLC.
Incoming donations
03.07.2012 — Семёнов М.А. ( Assist ), 2000р
03.07.2012 — Интернет - казино Goldfishka.com, 1000$
25.06.2012 — А.Погосян, 2000р
24.06.2012 — Небога А.. ( Assist ), 5000р
22.06.2012 — Мирославовна Ц.О. ( Assist ), 200р
14.06.2012 — webmoney ( Интернет лотерея 2LOTO.com ), 300$

Documents
News
04.07.2012
Funds to pay for a Tanya's rehabilitation have been collected. A huge thank you to everyone who took part in the fate of the child. In the near future 53,000 rubles will be transferred to Reatsentr.
13.06.2012
Children's Fund "Children of Earth" begins to raise funds to pay for treatment of Tanya Dolgova. Cost of treatment is 53,000 rubles. Diagnosis: central nervous system damage. Tanya is a very resilient and capable child. She has every chance to recover if we are to help her. Please respond and help in collecting donations for the treatment of the girl.