Zlata Filippovich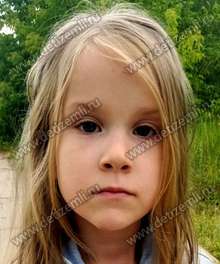 Age, from: 6, Orenburg Oblast
Diagnosis: damage to the central nervous system
Until the age of two Zlata was developing normally. Then, parents began to notice hyperactivity in the child. She lost interest in games and books, speech disappeared, and signs of tantrums appeared. After the examination, the doctors diagnosed Zlata with damage to the central nervous system. Since then, a long and expensive treatment has begun, for which the family has no funds. Now Zlata needs to undergo treatment at a clinic worth 99820 rubles. Help a sick child!
Incoming donations
25.09.2019 — Сержантов Сергей, 700р
11.09.2019 — Лиманский Руслан, 50р
27.08.2019 — Л Вячеслав, 100р
27.08.2019 — Дидур Владимир, 500р
27.08.2019 — Л Вячеслав, 100р

News
26.08.2019
Zlata is suffering from damage of the central nervous system. For the treatment of the child it is required to collect 98,820 rubles. The Children of the Earth Charitable Foundation for Children's Help asks all concerned people to respond and help raise funds to pay for the treatment of a sick child.