Vladislav Firansky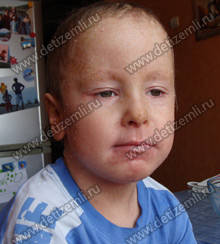 Age, from: 5 years , Moscow region
Diagnosis: congenital ichthyosis
Vladislav suffers from a congenital genetic disease. The child has very dry skin with cracks and irritation. Currently 100% of his skin is affected. Child constantly needs expensive medication which is not covered by the state, so parents have to buy it with their own money. Vladislav needs help in obtaining special medical cosmetics which costs 75,271 rubles. Help a sick child!
Help rendered
Paid 75,271 rubles for treatment.
Incoming donations
20.05.2014 — Смирнов В.Е., 54000р
14.05.2014 — YURIY BERBENETS, 5000р
14.05.2014 — Интернет лотереи 2LOTO.com, 200$
11.05.2014 — Интернет-казино Goldfishka.com, 314.39$
19.04.2014 — Belova Ksenia , 9000р
18.04.2014 — Могучева Ольга , 2000р

Documents
News
22.05.2014
Moscow Charitable Fund «Children of Earth» finishes the collection of charitable donations to pay for treatment of Vlad Firansky. Required amount is collected. We wish Vlad successful treatment.
10.04.2014
Charitable Foundation for sick children «Children of Earth» begins collecting donations for Vladislav Firansky from the Moscow region. The child has a congenital genetic disease and needs 75,271 rubles to purchase medication. Help Vladislav fight the disease!