Nastya Geleta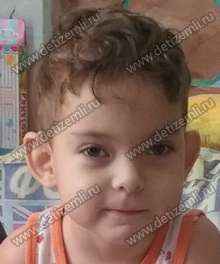 Diagnosis: cerebral palsy
From a letter from mom. Nastya was born on May 7, 2013, ahead of schedule, at 32 weeks, by cesarean section, weighing 1.800 grams. The child did not shout at birth, they did not even show her to me, since she was in serious condition. For ten days she was in intensive care unit on mechanical ventilation. From that moment, a completely different life began in our family, in which we need to do everything in our power so that our child can live independently and take care of himself. A long way has already been passed, but treatment must be continued. Help raise 107,000 for Nastya's treatment!
Incoming donations
04.11.2019 — Булыгин Денис, 200р
28.10.2019 — Гришечко Андрей, 150р
03.10.2019 — гришечко андрей, 150р
12.09.2019 — Лиманский Руслан, 100р
23.08.2019 — П. Анатолий, 1000р
22.08.2019 — Л Вячеслав, 100р
22.08.2019 — кузнецов иван, 1000р
22.08.2019 — онлайн казино Goldfishka.live, 10000р

News
22.08.2019
The Children of the Earth Charitable Foundation opens a collection of donations to Nastya Geleta. She needs 107,000 rubles. More information on the page dedicated to the child. Help Nastya defeat her illness!