Zhenya Goncharova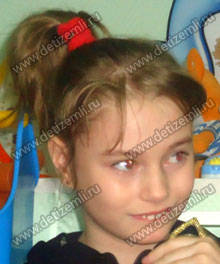 Age, from: 12, Volgograd oblast
Diagnosis: cerebral palsy
From her mother's letter. Growing Zhenya is a cheerful, kind, sympathetic child. Favorite Zhenya's character is Pinocchio, probably because he's always cheerful and never gets discouraged. Zhenya loves music, sings songs of different genres. My daughter has a dream — to run on her own feet to catch up with her sister. I plead, I ask you to help my family, without your support we cannot do anything. Please help us put the girl on her feet. At the moment she needs to undergo treatment at the medical center «Sakura» in Chelyabinsk. There are very qualified professionals. Treatment costs 179.700 rubles.
Help rendered
Paid 179,700 rubles for treatment of Zhenya.
Incoming donations
02.12.2017 — Смирнов Виталий, 180000р

Documents
News
06.12.2017
Charitable Foundation «Children of Earth» has paid for treatment of a sick child. We wish to thank Vitaly Smirnov for his help.
22.11.2017
Charitable Foundation for sick children «Children of Earth» asks for help in the treatment of Zhenya Goncharova from the Volgograd region. The child has a complex congenital disease that requires long-term treatment. Help Zhenya overcome his disease and start walking!