Masha Gorbunova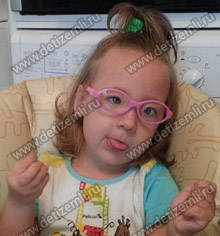 Age, from: 2 years old, Rostov-na-Donu
Diagnosis: cerebral palsy
Immediately after she was born Masha was placed in intensive care with suspected intestinal obstruction. Then she spent a month in the pathology department for newborns. The girl is slowly recovering. Masha requires treatment at the Headache Clinic which costs 45,550 rubles. Please help the child get better!
Help rendered
Fundraising is finished. The funds are collected.
Incoming donations
12.02.2014 — Belova Ksenia , 9000р
11.02.2014 — Интернет лотереи 2LOTO.com, 200$
10.02.2014 — Каюмова Динара , 1030р
07.02.2014 — ООО "Нетворк Профи", 20000р
05.02.2014 — Интернет-казино Goldfishka.com, 286.76$
28.01.2014 — YULIA DOINIKOVA , 500р

Documents
News
14.02.2014
Charitable Foundation for Children «Children of Earth» thanks all the donors who helped raise funds for Masha. The necessary money is collected and will be transferred as soon as possible.
27.01.2014
Foundation for sick children «Children of the Earth» requests financial assistance for Masha Gorbunova. Her course of treatment costs 45,550 rubles. Please help a sick child!