Artyom and Anton Gortsylo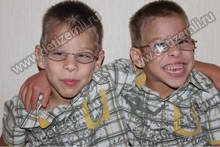 Age, from: 6 years old, Lipetsk
Diagnosis: cerebral palsy
The brothers Gortsylo have a serious condition that requires long-term and expensive treatment. Their parents try to nurture and develop their children as if they were healthy. They attend a development school, love to paint and sculpt in clay, learn to count and read, are very fond of swimming. They visit a defectologist, a psychologist, and a speech therapist. The boys currently need to be treated in a specialized clinic in Moscow. The cost is 119,000 rubles. Help sick children!
Help rendered
Collected 119,000 rubles for treatment.
Incoming donations
15.12.2013 — Смирнов В.Е., 87000р
15.12.2013 — Иванов А.И., 50000р
12.12.2013 — Интернет лотереи 2LOTO.com, 350$
12.12.2013 — Интернет-казино Goldfishka.com, 305.30$
08.12.2013 — ЗАО "Липецкстальмеханизация", 5000р
08.12.2013 — Кислов М.И., 4000р
08.12.2013 — Бакунина О.И., 2000р
03.12.2013 — fathutdinova Snegana , 500р
01.12.2013 — Макаров Евгений , 500р
28.11.2013 — ООО "ТД Металлопрокат", 19000р
25.11.2013 — Маркова Елена, 1677р

Documents
News
17.12.2013
Charitable Foundation for Children «Children of Earth» has collected donations for the treatment of brothers Gortsylo. We thank all the donors who participated in the fundraising to pay for treatment of the boys.
21.11.2013
Charitable Foundation for seriously ill children «Children of Earth» begins collecting charitable donations to pay for the rehabilitation course for brothers Gortsylo from Lipetsk. The boys have cerebral palsy. We need to collect 119,000 rubles to pay for treatment. Please help these sick children!