Nastya Guselnikova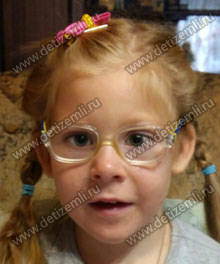 From a letter by Nastya's mom.
The first 2 trimesters of pregnancy went well. In the last months the ultrasound showed that Nastya had a triple cord wrap. We decided to go to the hospital for an «obstetrician from God» and be placed under observation. The doctor decided to call for childbirth, but something went wrong. The result was 2 day long birth and intrauterine stroke.
Nastya currently needs treatment in the clinic «Academy of Health» which costs 123,200 rubles. Help the sick child!
Help rendered
Collected 123,200 rubles for treatment of Nastya.
Incoming donations
10.07.2017 — Смирнов Виталий, 86000р
06.07.2017 — ИП Климанова Е.В. , 1000р
26.06.2017 — Тройникова Ирина , 1500р
09.06.2017 — онлайн казино Goldfishka.me (Vituss), 625$

Documents
News
17.07.2017
Charitable Foundation for children Children of Earth closes the collection of donations for Nastya Guselnikova. We thank the donors for their help.
05.06.2017
The charity foundation for helping children «Children of the Earth» asks for help to a sick child. Nastya has a central nervous system damage. She urgently requires treatment which costs 123,200 rubles.