Daniil Gusev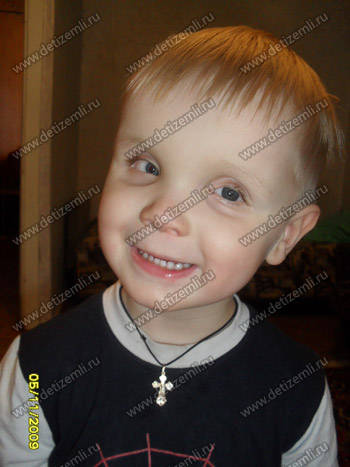 Age, from: age 3, Lipetsk
Diagnosis: traction retinal detachment
t Daniel was born the first of the twins. At the age of three months an ophthalmologist diagnosed the child with retinopathy complicated with cataract. The boy was immediately sent to Moscow for surgery, but it was too late because retina has completely detached. Then there was a lot of examinations and surgeries in Moscow and St. Petersburg, but to no avail. The child can see nothing. Daniel's only chance is a surgery in the Ludwig-Maximilians clinic in Germany, cost 10 000 euros. Help the child see the world!
Help rendered
After consultations with German doctors surgical site and the amount changed. Paid in full for surgery at the University Hospital Greifswald, 3,480 euros.
Documents
News
09.02.2011
After further consultations with the German doctors the place and payment amount have changed. University Hospital of Greifswald is waiting for Daniil and his mother on February 23. The surgery is scheduled for February 24, 2011. The cost of treatment is 3480 euros. We thank everyone who responded to Daniil's troubles and helped the child's family to pay for the operation. We wish them success.
13.12.2010
t Charitable Foundation for Children, "Children of the Earth" now opens the collection of funds for surgery in Germany for Daniil Gusev. Cost of surgery is 10,000 euros. The boy's diagnosis is detached retina. The child can see nothing. Your help is needed urgently!