Zoya Ivshina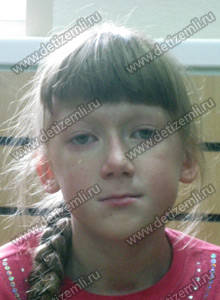 Diagnosis: central nervous system damage
This year Zoya graduated from first grade, but due to the delay of psycho-speech development and loss of coordination, she is not able to fully develop and to play with classmates, so she was transferred to home schooling. The family of a sick child lives in a village where there is no opportunity for a proper treatment. Zoya requires a course of specialized treatment in the clinic «Reatsentr» which costs 92m600 rubles. Help a sick child!
Help rendered
Collected 92,600 rubles for treatment.
Incoming donations
17.12.2014 — Мелконова Татьяна , 600 евро
19.10.2014 — Дмитрий Пищулин , 1000р
16.10.2014 — Akron Metal Group, 48544р
15.10.2014 — Интернет лотереи 2LOTO.com, 200$
17.09.2014 — Пищулин Дмитрий , 1000р
04.09.2014 — Онлайн казино GoldfishkaCasino.com, 300$

Documents
News
20.12.2014
Charitable Foundation «Children of Earth» finishes the collection of charitable donations. The amount required to pay for the treatment of Zoya collected. We wish the girl speedy recovery.
30.08.2014
Zoya Ivshina from Udmurtia needs treatment which costs 92,600 rubles. Charitable Foundation for children «Children of Earth» begins collecting donations for the treatment of the sick child. We ask all concerned people to respond and help the child in her fight against disease. Help a sick child!