Dasha Katuntseva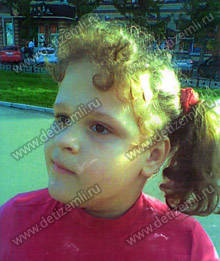 Age, from: 9 years old, Krasnodar Territory
Diagnosis: organic brain damage
Dasha was born prematurely. Her mother had twins, the boy died almost immediately and the girl survived. But difficult childbirth apparently had its effect and Dasha had to spend almost all of her first six months in a hospital. Thanks to continuous treatments the girl eventually learned to walk independently. But there is still a lot of complexities that need to be overcome. Dasha needs to undergo treatment at the Center for Speech Pathology which costs 67,000 rubles. Let's help the child in her desire to live a normal life!
Help rendered
Financed treatment, cost 67,000 rubles
Incoming donations
05.02.2014 — Интернет-казино Goldfishka.com, 286.76$
05.02.2014 — Анонимно, 27000р
23.01.2014 — ООО "Активэл", 1500р
17.01.2014 — Интернет лотереи 2LOTO.com, 200$
10.01.2014 — Манаев Эдуард , 197.91р
27.12.2013 — Небога А., 32000р
26.12.2013 — Макаров Евгений , 500р

Documents
News
05.02.2014
Charitable Foundation for sick children «Children of Earth» thanks all the donors who helped to collect donations for the treatment of Dasha. Fundraising is now closed and the treatment will be paid shortly.
26.12.2013
Charitable Foundation for Children «Children of Earth» begins collecting donations for treatment of Dasha Katuntseva (Krasnodar Territory). Dasha needs treatment at a center of speech pathology which costs 67,000 rubles. Help a sick child!