Misha Kiselev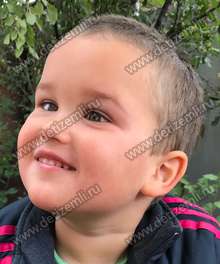 Age, from: 3, Chelyabinsk region
Diagnosis: cerebral palsy
From the mother's letter.
Misha is a child from the first pregnancy. Pregnancy proceeded normally, without complications. Childbirth occurred at 37 weeks, prematurely burst the fetal bladder, was a 12-hour anhydrous period. The contractions were bad, the child was squeezed out and he had a double entanglement of the umbilical cord. Perhaps this served to the development of health problems for my son, but as the doctors thought, the boy was born healthy and was discharged on time.
Misha currently needs treatment which costs 64,500 rubles. Help a sick child!
Incoming donations
15.11.2018 — Королёва Ирина, 150р
15.11.2018 — Баликоева Алана, 500р
15.11.2018 — Л Станислав, 100р

News
14.11.2018
Charitable Foundation for children «Children of the Earth» asks to help a sick child. The cost of treatment is 6,4500 rubles. Do not pass by, help Misha cope with his disease!