Maxim Kolupaev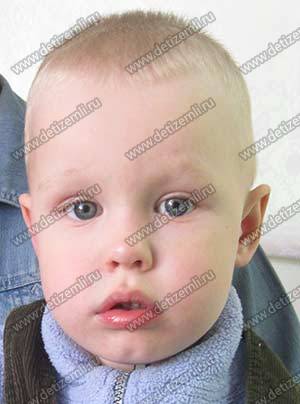 Age, from: 2 years, Izhevsk
Maxim's mother is raising three children. Her financial situation is difficult. Add to this the disease of her middle son, Maxim. The child has developmental delay due to illness of the brain. He hardly speaks. While it is too late to cure the boy, effective treatment is still available in the hospital in Izhevsk at the cost of 65,100 rubles. It's a course of rehabilitation with reflexology. Help little boy Maxim!
Help rendered
Paid 65,100 rubles for treatment
Incoming donations
28.11.2011 — azat gafurov ( Assist ), 2000р
24.11.2011 — Смирнов В.Е., 41500р
23.11.2011 — DENIS BELOGORODOV ( Assist ), 1000р
17.11.2011 — Гепферт В.Е., 1500р
16.11.2011 — webmoney ( Интернет лотерея 2LOTO.com ), 200$
11.11.2011 — webmoney ( Канцыреева Анна ), 14.74$
10.11.2011 — MARINA EGORENKO ( Assist ), 1000р
09.11.2011 — Интернет - казино Goldfishka.com, 500$

Documents
News
28.11.2011
Charitable Foundation for Children, "Children of the Earth," completes the collection of funds for the rehabilitation of Maxim. We have collected the necessary sum for his treatment. Thank you very much to all our friends and donors. Maxim will be in for survey on December 1, and treatment should begin on December 5. Maxim, we wish you health and happiness!
08.11.2011
Charity Foundation for Children, "Children of Earth" begins to raise funds for treatment of Maxim Kolupaev of Izhevsk. The cost is 65,100 rubles. We ask all the people who care to respond and help Maxim to become a healthier person. More information id on the Maxim's page.