Oleg Korkeshko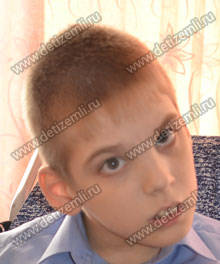 Age, from: 15, Sterlitamak
Diagnosis: cerebral palsy
Oleg has been ill since birth. The boy has cerebral palsy, spastic-hyperkinetic form, delay of psychomotor and speech development. But the most important is the preservation of the intellect. Oleg's father died, he is being raised by his mom. The child needs regular treatment. At this time Oleg needs treatment in a clinic. The cost is 150,000 rubles. Help a sick child!
Incoming donations
14.01.2018 — webmoney онлайн казино Goldfishka.me, 150$
09.01.2018 — Ободинская И.А. , 1000р
29.12.2017 — Дмитрий , 19013р
19.12.2017 — Хамитова Л.К., 2000р
12.12.2017 — онлайн казино Goldfishka.me, 150$
02.12.2017 — Усманов Вагит , 50р

Documents
News
22.11.2017
Oleg Korkeshko urgently needs treatment in the clinic «Sakura» worth 150,000 rubles. The child has a complex form of cerebral palsy. Help Oleg cope with his illness!