Artyom Kotelnikov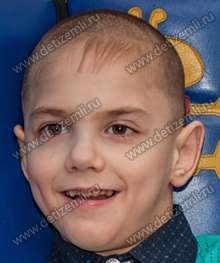 Age, from: 12, Kemerovo region
Diagnosis: cerebral palsy
From a letter from the mother of a sick child. My son has cerebral palsy. We have to treat Artem every year, and there is no money for treatment. Now it's been 12 years since Artem was born and what happened many years ago, I try not to remember, now I just thank God that he sent us our Artem my boy, that's what it is, because that's what Artem rallied our family, taught us to love, to tolerate,to forgive, to thank and to be compassionate. Now Artem needs to pay for the course of treatment worth 93 400 rubles. Help a sick child!
Incoming donations
23.07.2018 — Молоков Сергей , 400р
02.07.2018 — Федонин Никита , 500р
21.06.2018 — Якимов Игорь , 400р
14.06.2018 — webmoney онлайн казино Goldfishka.me, 150$
11.05.2018 — Л Вячеслав , 100р

Documents
News
10.05.2018
Charitable Foundation for children Children of the Earth opens the collection of donations for the treatment of a sick child. Artyom has a congenital disease that requires long-term treatment. Help Artem overcome his disease!