Maxim Kotlyakov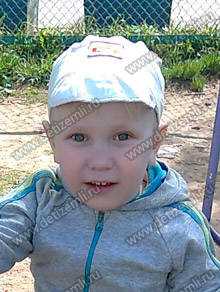 Diagnosis: cerebral palsy
Maxim is 3 years old and still does not speak. But this is not his only problem. He is hyperactive, sometimes uncontrollable, very noisy, lagging behind in mental and cognitive development. The child needs a permanent cure. Maxim needs to undergo treatment in Reatsentr worth 67,500 rubles. Please help the boy!
Help rendered
Financed treatment, cost 67,500 rubles
Incoming donations
06.07.2014 — Смирнов В.Е., 50000р
19.06.2014 — Тимин Евгений , 200р
18.06.2014 — Интернет-казино Goldfishka.com, 300$
09.06.2014 — Интернет лотереи 2LOTO.com, 200$
04.06.2014 — webmoney, 0.22$
03.06.2014 — webmoney, 250р

Documents
News
01.07.2014
Charity Foundation «Children of Earth» has collected the money to pay for the treatment of Maxim. The cost of the treatment is 67,500 rubles. The boy will receive the necessary treatment soon. We wish him a speedy recovery.
23.05.2014
Our foundation begins collecting donations to pay for treatment of Maxim in Reatsentr. The cost of treatment is 67,500 rubles. We can help the sick child in the treatment of his terrible disease.