Kolya Kurbatov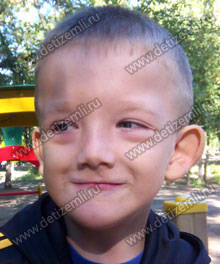 Diagnosis: central nervous system damage
Kolya currently attends correctional kindergarten. Likes to walk, play on the Playground. Also, like most of his peers he loves cars, he imagines himself the driver. Loves animals, especially his cat Bob, as he calls it. Child kind, sociable, contact with other children and wants to communicate, but communication problems interfere with speech. Kolya must undergo regular rehabilitation courses which cost 40,500 rubles. Let's help a sick child!
Help rendered
Collected 40,500 rubles for treatment.
Incoming donations
14.10.2016 — Вальмир Абдулов , 100р
07.10.2016 — ООО Динамика, 40000р
02.10.2016 — Леонид Петренко , 300р
28.09.2016 — webmoney онлайн казино Goldfishka.me, 150$
24.09.2016 — Яндекс Деньги, 900р

Documents
News
16.09.2016
We are collecting donations to pay for treatment of a sick child. Kolya has central nervous system damage and should be regularly examined by a doctor. One examination is worth 40,500 rubles. Help a sick child!