Nikita Lisunov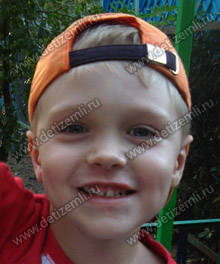 Age, from: 6 years old, Krasnodar Krai
Diagnosis: pathology of the CNS
When Nikita went to the daycare center, he was so different from the other children that it was impossible not to notice. At 2 ½ years of age the child was taken to a neurologist and was given drug treatment. The result was nil. Nikita did not understand language and did not respond to his name, constantly running away, not showing any social skills. Then the boy was sent to a psychiatrist. So began the life of this wonderful baby!
Nikita urgently needs to undergo treatment in the clinic «Reatsentr» which costs 154,850 rubles. Help the boy enjoy a happy childhood!
Help rendered
Collected 154,850 rubles for treatment.
Incoming donations
23.06.2016 — Смирнов В.Е., 137000р
13.06.2016 — П Наталья , 500р
31.05.2016 — Taranenko Igor , 5000р
23.05.2016 — прилуков константин, 11000р
23.05.2016 — DMITRY KOROMYSLOV, 1000р
27.04.2016 — Бинявский Сергей , 500р

Documents
News
27.06.2016
Charitable Foundation for children Children of Earth closes the fundraiser for Nikita Lisunov. We heartily wish the boy success in treatment.
27.04.2016
The website of the charity Fund «Children of Earth» was specifically created to look for sponsors and raise funds to pay for treatment of sick children. Today we start collecting donations to pay for treatment of Nikita Lisunov from Krasnodar. The boy needs 154,850 rubles for his treatment. Help a sick child!