Oleg Lystsev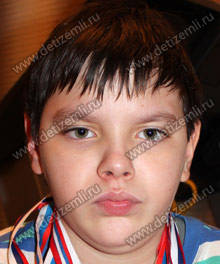 Age, from: 12 years old, Murmansk, Russia
On March 20, 2003 a long-awaited son Oleg Lystsev was born in a family. The same year doctors diagnosed cerebral palsy. Treatment began immediately. They Went to different cities for treatments: Moscow, St. Petersburg, Vologda, Chelyabinsk, Novosibirsk, Anapa, Pyatigorsk, Truskavets, Odessa. The efforts were not in vain and Oleg can walk supported by one hand, can walk around home without support. The boy needs treatment in Prognoz Med. The cost is 140,100 rubles. Help Oleg recover!
Help rendered
Collected 17,900 rubles for treatment.
Incoming donations
31.01.2016 — Коромыслов Дмитрий , 490р
22.01.2016 — Кузнецова Н.А. , 1000р
13.01.2016 — Тимин Евгений , 200р
14.09.2015 — webmoney, 88.88$
11.09.2015 — webmoney Goldfishka5.com, 150$

Documents
News
29.04.2016
Charitable Foundation «Children of Earth» has paid part of the cost of treatment of Oleg in the amount of 17,900 rubles. We wish the child get well soon!
02.09.2015
Charitable Foundation for sick children Children of Earth begins collecting donations to pay for treatment of a sick child. The boy has cerebral palsy and he urgently needs to undergo treatment which costs 140,100 rubles. Help a sick child!