Brothers Mamedov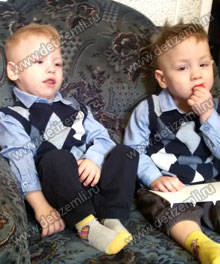 Diagnosis: Cerebral palsy
From the mother's letter:
It so happened that in the 28 weeks of emergency deliveries in the Tver perinatal center. Two boys and a girl were born with a total weight of 3.3 kg for all three. After 10 days the girl died and a boy was on the verge of death. Seeing the condition of my children and the attitude of the medical staff, I began to arrange their transfer to Moscow. It was not easy because we live in the Tver region and no one is waiting for us in the capital. But apparently the boys were destined to live!
The brothers currently need treatment in a clinic. The cost is 241,964 rubles. Help the sick children!
Incoming donations
16.03.2017 — Смирнов В.Е., 235000р
13.12.2016 — webmoney онлайн казино Goldfishka.me, 150$
02.12.2016 — ИП Климанова Е.В. , 1000р
25.11.2016 — webmoney, 8.88$

Documents
News
20.03.2017
Charitable Foundation for children Children of Earth thanks all the sponsors for helping sick children. The fundraiser is closed. Treatment has been funded.
29.11.2016
Charitable Foundation for children «Children of Earth» opens the collection of donations to pay for the treatment of two boys. We ask you to come forward and help pay for the treatment of these wonderful boys.