Ilya Mandrykin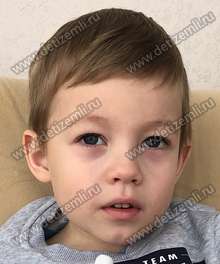 Age, from: 5, Stavropol Territory
Diagnosis: organic damage to the central nervous system
From a letter from mom. My son is 5 years old, diagnosed with Organic central nervous system damage, Delayed psycho-speech development with elements of autism, Sensomotor alalia. No Speech. Speech understanding is very poor. All this greatly affects his development, behavior, lags behind his peers, cannot make contact with them, plays «kiddie» games not by age, or is not interested in toys at all. Now we need to undergo treatment worth 125,350 rubles. Help us raise the necessary funds!
Incoming donations
16.09.2019 — Василькина Анна, 500р
16.09.2019 — кузнецов иван, 1000р
11.09.2019 — Лавриненко Григорий, 500р
09.09.2019 — Лиманский Руслан, 50р
02.09.2019 — Зачупейко Андрей, 250р
30.08.2019 — Москаленко Айнура, 100р
28.08.2019 — ANDREY ZACHUPEYKO, 150р
28.08.2019 — Л Вячеслав, 100р

News
28.08.2019
The Children of the Earth Charitable Foundation for Helping Children opens a collection of donations to pay for the treatment of Ilya Mandrykin from the Stavropol Territory. The cost of treatment is 125,350 rubles. The diagnosis of organic damage to the central nervous system. Help a sick child!