Ilya Mikhaylov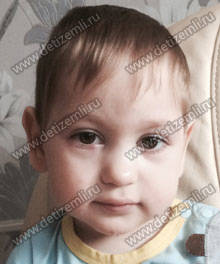 Diagnosis: cerebral palsy
Ilya is the second child in the family and, of course, very welcome. During his premature birth the water broke and the baby was not born timely. It affected his health. The baby spent two days in intensive care then was transferred to the ICU for nursing. At the moment the child can only turn over and cannot do anything else on his own. The boy urgently needs treatment in a clinic the cost 119000 rubles. In this situation it is very important not to waste time. Help a sick child!
Help rendered
Collected 119,000 rubles for treatment.
Incoming donations
19.11.2016 — Смирнов В.Е., 96000р
15.11.2016 — Лахтин Виталий , 100р
11.11.2016 — Коларик Оксана , 5000р
07.11.2016 — Яндекс Деньги, 1000р
14.10.2016 — Вальмир Абдулов , 100р
13.10.2016 — Поляков Сергей , 2500р
07.10.2016 — Ганбарг А.Л. , 12900р
06.10.2016 — Виктория Пекарева , 2000р
02.10.2016 — Краснова Оксана , 300р
02.10.2016 — Горячая Оксана , 100р
28.09.2016 — webmoney онлайн казино Goldfishka.me, 150$

Documents
News
24.11.2016
Charitable Foundation for children «Children of Earth» has collected donations for treatment of Ilya. We thank all the donators for their help and support!
16.09.2016
Charities in Russia that help children with cerebral palsy know from experience that with a diagnosis like this it is vital to start treatment as early as possible. Only then success cam be guaranteed. Please help pay for the treatment of Ilya Mikhailov from Moscow.