Valya Mishkina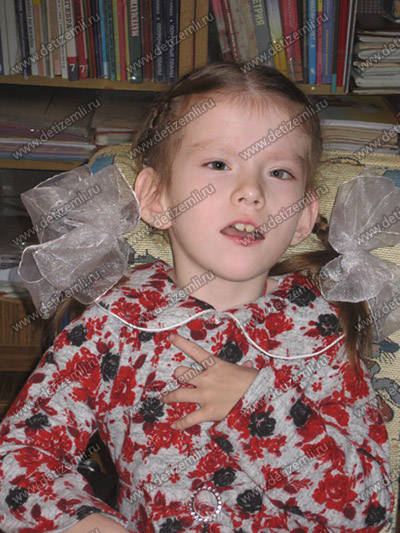 Age, from: 7 years, Izhevsk
Diagnosis: severe spastic tetraparesis
After the birth doctors said to Valya's mother that the child is going to die in a few days. But the mother decided that she along with his daughter will be able to overcome all difficulties. Now the child is seven years old. Valya can't walk or sit, eats with help, but much wants to become a full child and fully know the joys of childhood. And there are all prerequisites. Intelligence of the child is fully preserved, which gives hope for recovery. Valya now need to undergo treatment in the Reatsentr, Izhevsk, at the cost of 24,400 rubles. Help little Valya live a normal life!
Help rendered
Fully paid for treatment of Valya cost 24,400 rubles
Incoming donations
11.06.2011 — webmoney ( Интернет лотерея 2LOTO.com ), 200$
02.06.2011 — Малашук Т.В., 3000р
29.04.2011 — Шубин Никита, 6200р
26.04.2011 — Яндекс Деньги, 4000р

Documents
News
28.06.2011
We have good news. Today, we have fully paid for treatment of Valya in "Reatsentr" LLC, Izhevsk, cost 24 400 rubles. We wish you every success to Valya in fighting the disease and more joy and smiles.
19.04.2011
Today we begin collecting donations for the treatment of Valya Mishkina in Izhevsk, cost 24,400 rubles. The girl needs a lot of rehabilitation to achieve the desired results. At the moment, this small amount is the next step in the treatment of Vali. Help the girl to fight her disease!