Gleb Moiseyenko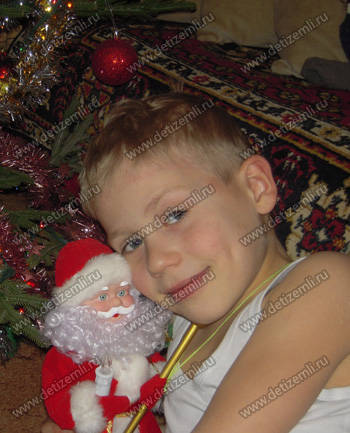 In 2008, Gleb was diagnosed with diabetes mellitus. That event turned the child's life. He had to adjust and learn to live a new life. Now Gleb has to take daily insulin injections and repeatedly measure blood sugar levels, which fluctuates throughout the day from 1.3 to 30.2 mmol/l. Gleb urgently needs an insulin pump (cost 116 000 rubles), which will help the boy feel like a normal person, because diabetes mellitus is a huge psychological stress for the child. Help Gleb live a life worth living!
Help rendered
Fully paid for insulin pump cost 116,000 rubles.
Incoming donations
02.08.2011 — webmoney ( Интернет лотерея 2LOTO.com ), 200$
12.07.2011 — Гепферт Е.М., 1500р
17.06.2011 — MS. OLGA GURINA ( Assist ), 1000р

Documents
News
04.08.2011
We thank all our benefactors and friends who helped raise funds for the purchase of insulin pumps for Gleb. The boy has diabetes and it is vital for him to have this pump. Now it is. Thank you all again! We wish health and success to Gleb, too!
15.06.2011
Charitable Foundation for Children, "Children of the Earth" opens the collection of charitable donations to pay for insulin pump for Gleb Moiseenko (cost 116 000 rubles). The boy has diabetes. He requires daily insulin injections. To make his life easier he needs a pump that will measure blood sugar and inject insulin painlessly.