Denis Molchanov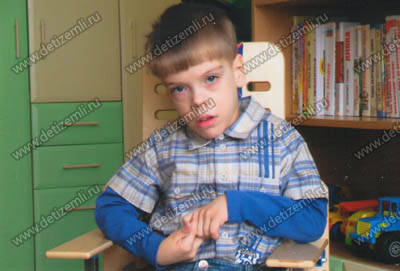 Age, from: 8 years old, Tver
Diagnosis: cerebral palsy
t Cerebral palsy put Dennis at 6 months. Therefore, his whole life - this massage, exercise therapy, mud therapy, acupuncture, laser therapy, outpatient clinics and rehabilitation centers. But despite his illness, Dennis - a cheerful, outgoing man! Help, please, get your child out of wheelchair! Payment required treatment in LLC Ogonyok-ES 'cost of 142,000 rubles.
Help rendered
Paid 142,000 rubles for treatment of Denis
Incoming donations
16.09.2011 — Денисова И.А., 50000р
11.06.2011 — webmoney ( Интернет лотерея 2LOTO.com ), 200$
11.06.2011 — webmoney, 1$
07.06.2011 — Денисова И.А., 50000р
30.04.2011 — gurevich ( Assist ), 10000р
04.04.2011 — TIMUR ZAYNULLIN ( Assist ), 10000р
18.03.2011 — ANDREY SAVITSKIY ( Assist ), 1500р
18.03.2011 — Яндекс Деньги, 5024.75р
16.02.2011 — Малашук Т.В., 4000р
29.10.2010 — Девяткина Я.Н., 1400р

Documents
News
24.09.2011
Dear friends! Finally, we managed to collect 142,000 rubles for rehabilitation of Denis. The boy suffer from cerebral palsy and requires long-term treatment. On behalf of the Fund "Children of the Earth" and the boy's mother, we would like to thank all the donors who took part in the fate of Denis. We especially want to stress the role of I. A. Denisova. Thank you very much!