Natasha Nekrasova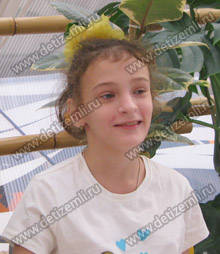 Age, from: 13, Novokuznetsk
Diagnosis: spastic diplegia
The day after her birth Natasha was transferred to intensive care where the child was placed on ventilator. After her condition stabilized, the girl was transferred to a neonatology department. That's how life began for the little Natasha. Since then the child has to constantly fight with her terrible illness. She needs to undergo treatment at the Spark clinic at a price of 175,000 rubles. Help a sick child!
Help rendered
Financed treatment, cost 175,000 rubles.
Incoming donations
06.07.2014 — Смирнов В.Е., 73000р
26.06.2014 — Мелконова Татьяна , 1000 евро
22.06.2014 — Пищулин Дмитрий , 1000р
19.06.2014 — Мелконова Татьяна , 300 евро
18.06.2014 — Интернет-казино Goldfishka.com, 300$
18.06.2014 — Тимин Евгений , 200р
09.06.2014 — Интернет лотереи 2LOTO.com, 250$
05.06.2014 — Мелконова Татьяна , 300 EUR
04.06.2014 — Лабазанова Мата , 3000р
03.06.2014 — небога алексей , 2400р

Documents
News
06.07.2014
Charity children's Fund «Children of Earth» thanks our long-standing supporter v. E. Smirnov, who has been helping our Foundation for a long time. This time he has helped several children pay for thir treatment, including Natasha Nekrasova, to whom we wish a speedy recovery.
02.06.2014
Moscow Charitable Foundation for sick children «Children of Earth» asks you to help Natasha Nekrasova. The girl has spastic diplegia and needs treatment which costs 175,000 rubles. Our foundation begins collecting donations to pay for the child's treatment.