Ilya Osipov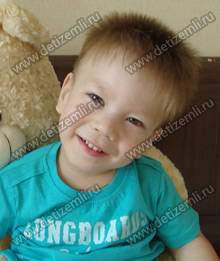 Age, from: 3 years, Moscow
Diagnosis: intracranial hemorrhage
Ilya was born a perfectly healthy boy, but at the age of 6 weeks he suffered a sudden brain hemorrhage. Ilya miraculously survived, at first being kept in intensive care for a long time, then transferred to the infectious diseases department. The child has suffered developmental delay as a result and needs constant care. Currently Ilya need to undergo treatment in the clinic «Sakura» worth 111,750 rubles. Help a sick child!
Help rendered
Financed treatment value of 111,750 rubles.
Incoming donations
27.05.2014 — ИП Иванов П.М., 500р
20.05.2014 — Смирнов В.Е., 88000р
15.05.2014 — Маркова Елена, 1100р
14.05.2014 — YURIY BERBENETS, 5000р
24.04.2014 — ИП Иванов П.М., 500р
18.04.2014 — ALEXEY NEBOGA, 1200р
16.04.2014 — Пищулин Дмитрий , 1000р
09.04.2014 — Интернет лотереи 2LOTO.com, 300$
08.04.2014 — Интернет-казино Goldfishka.com, 280.37$

Documents
News
22.05.2014
Moscow Charitable Foundation for seriously ill children «Children of Earth» completes the collection of charitable donations to pay for the treatment of Ilya Osipov. The money is collected in full and in the near future the treatment will commence. We wish to express special thanks to v. E. Smirnov who has long been helping sick children and extended a helping hand to this child too.
03.04.2014
Dear friends! Our Foundation begins collecting donations to pay for treatment at the clinic «Sakura». We hope that our contributors and us will be able to respond in the shortest time possible to gather the necessary funds for the treatment of the boy. The child suffered intracranial hemorrhage and needs a long process of rehabilitation.