Alina Ovcharova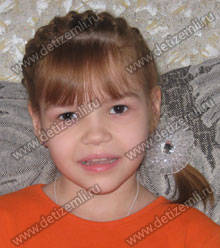 Age, from: 9 years old, Lipetsk
Diagnosis: cerebral palsy
Alina is growing up in a large family. The girl is disabled since childhood. At the moment she can't talk or walk independently. Her mother uses an old undersized wheelchair to take her for a walk. Alina needs a special wheelchair designed for children diagnosed with cerebral palsy. The cost is 28,800 rubles. Help this child make sure she's still able to move around streets!
Help rendered
Paid 28,800 rubles for wheelchair.
Incoming donations
30.08.2013 — Колесникова Л.П., 500р
18.08.2013 — Хрипунков А.В., 10000р
18.08.2013 — Корлыханов А., 3000р
18.08.2013 — Романов Р.Р. , 500р
18.08.2013 — ООО "ЦентроМет", 13800р

Documents
News
19.08.2013
Charitable Foundation for Children «Children of Earth» finishes the collection of charitable donations to pay for a wheelchair for a sick child. Thank you all for your help in buying the wheelchair!
12.08.2013
Foundation for sick children, «Children of Earth» begins collecting charitable donations to purchase a special wheelchair for a child with cerebral palsy. We need your help!