Olesya Ovtcharova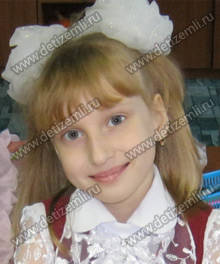 Age, from: 10 years old, Lipetsk
Diagnosis: central nervous system damage
At the age of 4 Olesya was diagnosed with developmental delay and speech impairment. At 5 years and 6 months she started having epileptic seizures. She received treatment in a state clinic but it was ineffective and the child got worse. Olesya needs to undergo treatment SEC PNI which costs 70,850 rubles. Help a sick child!
Help rendered
Financed treatment, cost 70,850 rubles.
Incoming donations
14.07.2014 — Романцова М.К., 1000р
09.07.2014 — ЗАО "Липецкстальмеханизация", 5000р
06.07.2014 — Смирнов В.Е., 70850р
04.07.2014 — Berbenets Yuriy , 5000р
02.07.2014 — Могучева Ольга , 2000р
30.06.2014 — ООО "ТД Металлопрокат", 10850р

Documents
News
08.07.2014
Charitable Foundation «Children of Earth» has collected money for treatment of Olesya treatment. We thank everyone who helped and participated in the life of a sick child. Thank you very much!
20.06.2014
Moscow Charitable Foundation for Children «Children of Earth» begins collecting donations to pay for treatment of Olesya Ovtcharova. The girl has a central nervous system damage and needs constant care. Help a sick child!