Lisa Panchenko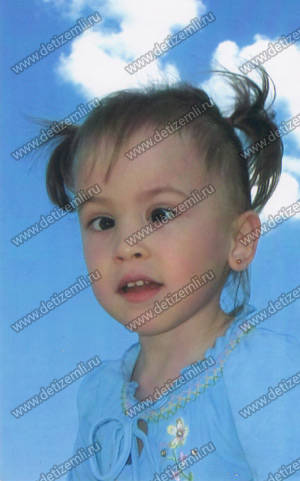 Age, from: 6 years, Penza region
Diagnosis: spastic diplegia
At birth, Lisa suffered a brain hemorrhage. Doctors diagnosed her with perinatal central nervous system damage. From that moment a long road of treatment began. In April 2010, Lisa took a rehabilitation course at the Shamarin's center, which gave very good results. Lisa is a cheerful and sociable child. She loves to play, draw and assemble puzzles. In order to continue with the rehabilitation the girl needs to undergo a second course of treatment at the cost of 81,000 rubles.
Help rendered
Paid 81,000 rubles for treatment
Incoming donations
24.11.2011 — Смирнов В.Е., 63000р
10.11.2011 — MARINA EGORENKO ( Assist ), 1000р
05.10.2011 — Интернет - казино Goldfishka.com, 300$
16.08.2011 — irina uliandina ( Assist ), 500р
05.08.2011 — webmoney, 10$
14.06.2011 — Гепферт М.Е., 1500р
09.06.2011 — webmoney ( Интернет лотерея 2LOTO.com ), 200$

Documents
News
28.11.2011
Charitable Foundation for Children "Children of Earth" closes the collection of donations to pay for the rehabilitation of Lisa. Soon the girl will be treated in the clinic. Many thanks to all the donors who took part in the fate and treatment of the child.
09.06.2011
Lisa is a very cute and lovely child. At birth she had a brain hemorrhage. Now it is vital for the girl to seek treatment in Shamarin's rehab center, cost 81,000 rubles. Help the child to fight her disease!