Plekhanov, Misha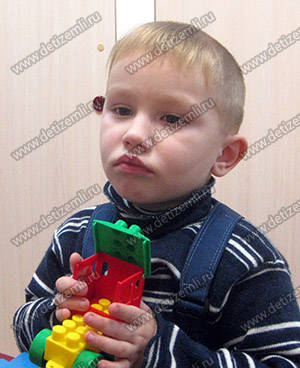 Diagnosis: central nervous system disease, cataracts
Misha has several serious diseases. The child does not talk, doesn't communicate with other children, leading a solitary life due to his delayed development. Starting with 2 1/2 years of age, his life is hospitals, doctors, injections and procedures. Misha's mother believes that the diseases can be defeated, and the doctors noticed significant improvements and positive changes in his condition. Now the boy must undergo a rehabilitation course in «Reatsentr» worth 85,500 rubles. Help the child see the world through different eyes!
Help rendered
Paid 85,500 rubles for treatment of Misha in Reatsentr
Incoming donations
30.01.2012 — webmoney, 99.2р

Documents
News
30.01.2012
Charitable Foundation for Children "Children of Earth" wishes to thank our friend and long-time benefactor Vitaly, who helped to collect the necessary sum for the treatment of Misha in a short time. We stop collecting donations for Misha Plekhanov and in the near future will pay for his treatment. We wish Misha a speedy recovery, and thank Vitaly once again.
23.01.2012
We now begin raising 85,500 rubles of funds for the treatment of Misha in Reatsentr, Izhevsk. The boy suffers from a disease of the central nervous system and cataracts. Please come forward and lend a helping hand!