Mark Pronsky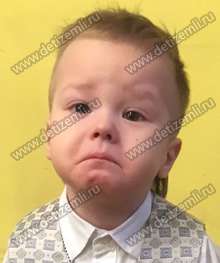 Age, from: 2, Chelyabinsk
Diagnosis: cerebral palsy
From the mother's letter: Due to incorrect birth, Mark was born with severe asphyxia. After birth, we were transferred to acute renal failure, where the small size of the fetus for gestational age was diagnosed. Hypoxic-ischemic damage to the CNS, CBC, ZPMR, ZRR, hearing loss, vision. We lay there for 10 days, and after we were discharged home. I thought that everything, this horror was over, my son is at home with me, alive and now everything will be fine. But, unfortunately, another misfortune has arrived. I began to notice that the child develops not like ordinary children, holds his head poorly, does not turn over. In a year and two months, we were given a disability and were diagnosed with cerebral palsy, right-sided hemiparesis.
Mark currently needs treatment worth 100,000 rubles.
Incoming donations
16.10.2018 — Татьяна Зинченко, 250р
16.10.2018 — Федонин Никита, 500р
16.10.2018 — онлайн казино Goldfishka.Live, 150$
09.10.2018 — Неважно Анатолий, 1000р
07.10.2018 — Федонин Никита, 500р
05.10.2018 — кожушко николай, 1000р
05.10.2018 — Л Станислав, 100р

Documents
News
04.10.2018
Charitable Foundation for Children «Children of Earth» opens a fundraising for the treatment of a sick child. Mark has cerebral palsy. The family has no money for treatment, therefore we ask you to respond and help the boy to overcome his illness. The cost of treatment is 100,000 rubles.