Julian Sentsov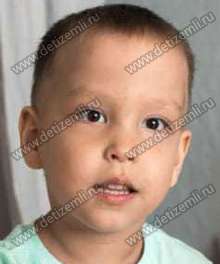 Age, from: 5, Novosibirsk
Diagnosis: pathology of the central nervous system
From a letter from the mom. My son Sentsov Julian Emilievich was born on July 22, 2014 in Novosibirsk. Pregnancy proceeded with compensated chronic placental insufficiency. At discharge, he was diagnosed with Congenital pneumonia in combination with RDS, GZFAP in the acute period, DN IIst., IC Ist., Permission. With each intensive rehabilitation, Julian acquires new skills and feels better, we urgently need to continue rehabilitation. We very much believe that Julian will recover. 147800 rubles are needed to pay for treatment. Help a sick child!
Incoming donations
09.10.2019 — кузнецов иван, 1000р
16.09.2019 — Василькина Анна, 500р
28.08.2019 — Зачупейко Андрей, 150р
22.08.2019 — Якимов Игорь, 500р
22.08.2019 — Зачупейко Андрей, 99р
22.08.2019 — П. Анатолий, 1500р
22.08.2019 — Л Вячеслав, 100р
22.08.2019 — Зачупейко Андрей, 99р

News
21.08.2019
The Children of the Earth Charitable Foundation begins collecting donations to pay for the treatment of Julian Sentsov. We need to collect 147,800 rubles. The boy has a pathology of the central nervous system. Do not pass by, help a sick child!