Yesenia Sergeeva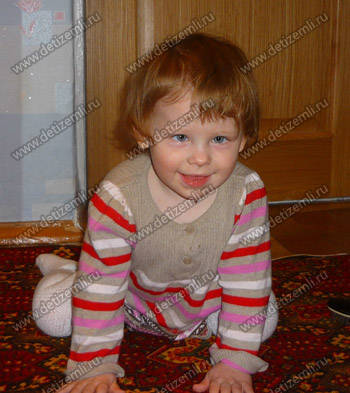 Age, from: 2 years, Pskov
Diagnosis: cerebral palsy
Yesenia has a serious disease, cerebral palsy. This disease requires expensive and long-term treatment. Yesenia's mother tried many different methods of rehabilitation and finally picked up the most effective, which really helps her daughter. Now Yesenia is able to walk with a special walker, sit more comfortably, drink. This is huge progress. Now the girl is required to pass the next course of treatment in a rehabilitation center "Ariadne" worth a total of 14,500 rubles. Help Yesenia learn how to live a normal life!
Help rendered
Treatment has been paid with our information support.
Incoming donations
02.04.2012 — Алексашин П.В. ( Assist ), 1000р
02.04.2012 — webmoney, 134.40р
02.04.2012 — webmoney, 65.59р
28.03.2012 — webmoney, 100р
28.03.2012 — Кремнева И.А., 1500р
26.03.2012 — webmoney, 99.2р

Documents
News
20.06.2012

We have received a letter from the mother of Yesenia, in which she writes about her daughter successfully completing her rehabilitation course. We are grateful to the people who responded and helped raise money for the treatment of the girl. To the little Yesenia, we wish you success and full recovery.
03.04.2012
With our information support the gir's family has been able to pay for several treatment courses for their child. An unknown Sponsor paid directly to the clinic. Therefore, we close the collection of donations and we will wait for good news after the treatment. Thank you for helping Yesenia!
24.03.2012
Charitable Foundation for Children "Children of Earth" begins collecting donations for the treatment of Yesenia Sergeeva. The girl has a terrible disease and requires constant medical supervision. Her mother is raising her alone. The cost of treatment is 14,500 rubles. Let's help the girl live a normal life!