Lenya Schelkonogov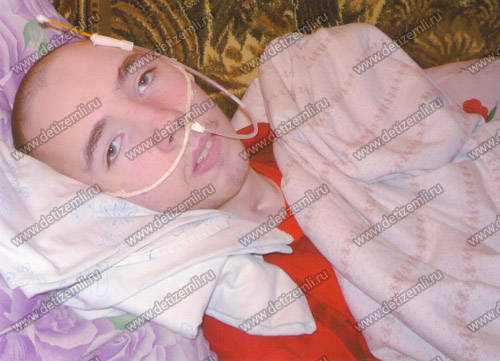 Age, from: age 22, Sverdlovsk region
Diagnosis: Severe brain injury after accident
t On August 31, 2003 Lenya was hit by a drunk driver. The boy was in intensive care and fell into a coma. The long months of coma caused by severe disability. Now Lenya is completely immobile and can not take care of himself. But his mother believes in the victory over the disease and continues to fight for the life of her son. At the moment, Lenya needs a verticalizer cost 38,900 rubles. Help Lenya in his struggle for life!
Help rendered
Paid for verticalizer for Lenya, cost 38,900 rubles
Documents
News
20.03.2011

Thanks to our donors and the work of the Children of Earth Foundation a verticalizer was purchased and delivered to Lenya Schelkonogov. Now the boy with the help of the simulator can be placed in an upright position. Lenya's mother sincerely thank all the caring people who responded to her grief. You can see the photo that she sent us. Despite the serious condition of her son mother hoping for the best and believes in a happy future for Lenya.
19.01.2011
t We have good news. Charitable fund "Children of the Earth" has fully paid for verticalizer for Lenya Schelkonogova from the Sverdlovsk region worth 38,900 rubles. We are grateful for the assistance of A.V. Khripunkov. To Lena we wish health and success!
20.11.2010
t Today we open a fundraiser to pay for the verticalizer for Schelkonogov Lenya from the Sverdlovsk region. The boy suffered severe brain injury after an accident. The cost of the verticalizer is 38 900 rubles. Help the boy in the struggle for life!