Andrey Shibanov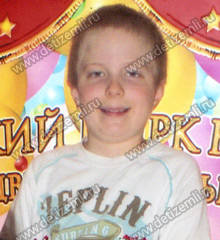 Age, from: 13, Moscow region
Diagnosis: sinus node dysfunction
Andrey's birth has was difficult. He was «stuck» and has been pulled by his right hand by the midwives, breaking his right brachial plexus and shifting a cervical vertebrae. Since that he has been under constant care. If Andrey never recovers from his disease, he can expect a complete memory loss. The boy must undergo a course of treatment ehich costs 67,000 rubles. It will significantly improve the condition of the child. Help a sick child!
Help rendered
Collected 67,000 rubles for treatment.
Incoming donations
23.08.2014 — Смирнов В.Е., 50000р
16.07.2014 — Интернет-казино Goldfishka.com, 300$
10.07.2014 — Интернет лотереи 2LOTO.com, 200$

Documents
News
26.08.2014
Charitable Foundation for children «Children of Earth» finishes collection of donations to pay for treatment of Andrey Shibanov. We thank all the donors who helped in raising funds, especially v. E. Smirnov. We wish Andrey success in treatment and more smiles!
10.07.2014
The Children of Earth charity foundation begins collecting donations for the treatment of Andrey. The child must undergo a course of treatment which costs 67,000 rubles in the Center of Speech Pathology. Help Andrey to cope with his illness!