Eleanora Shipaeva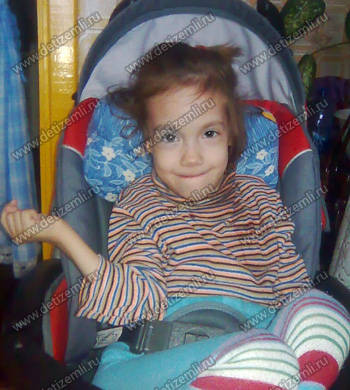 Age, from: 8 years, the Republic of Bashkortostan
Diagnosis: cerebral palsy
Eleanora is ill since her birth. She cannot sit up or hold her head, cannot eat on her own. Throughout her life the girl continues to be treated. Eleanora is a very clever child, her intellect is fully preserved. She loves to draw, watch television, understands her mother and loves playing with her. Eleanora took three courses of treatment in LLC Reatsentr which weeere very helpful. Now the girl needs help to pay for the cost of fourth rehabilitation (73,100 rubles). Help Eleanora get a chance of a happy childhood!
Help rendered
Paid 73,100 rubles for treatment of Eleonora in Reatsentr LLC
Incoming donations
15.04.2012 — webmoney ( Кабацкий Артем ), 23$
15.03.2012 — Смирнов В.Е., 45000р
13.03.2012 — Лобарев А.В., 5000р
07.03.2012 — TRUSH A.. ( Assist ), 3500р
29.02.2012 — webmoney, 100р
27.02.2012 — webmoney, 50р
26.02.2012 — webmoney ( Кабацкий Артем ), 2861.40р
26.02.2012 — webmoney ( Кабацкий Артем ), 26$
26.02.2012 — webmoney, 74р
16.02.2012 — Ольга ( Липецк ), 500р
14.02.2012 — Барвашов Я.В., 3000р
28.12.2011 — Ms. Olga Gurina ( Assist ), 1000р
16.11.2011 — webmoney ( Интернет лотерея 2LOTO.com ), 200$
11.11.2011 — Larisa Boderscova ( Assist ), 5000р

Documents
News
20.03.2012
Charitable Foundation for Children "Children of Earth" wishes to thank all our friends, volunteers and donors who helped to raise funds for the treatment of Eleanora. Thank you very much! Soon the girl will receive treatment. We heartily wish her recover faster.
02.10.2011
Eleanora has cerebral palsy. She is 8 years old, but she cannot walk, sit up or take any cara of herself. She needs constant care and treatment. Please help pay 73,100 rubles, the cost of her rehabilitation.